Dental Implants
If you have any missing teeth, dental implants could help replace those teeth. A dental implant is an artificial tooth root that is placed into your jaw bone. Dental implants serve as an anchor for replacement prosthetic teeth, such as single crowns, bridges, or complete dentures. Under proper conditions, such as placement by a periodontist, restoration by a restorative dentist, and diligent patient maintenance, implants can last a lifetime. Dental implants are an ideal option for people in good general and oral health who have lost a tooth or teeth due to cavities, periodontal disease, an injury, or a fractured tooth.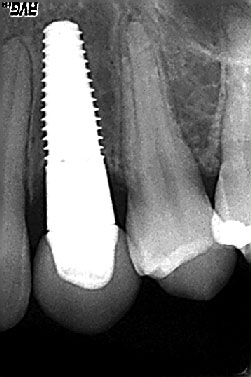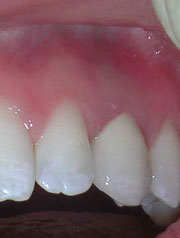 Are You a Candidate for Dental Implants?
You are a good candidate for a dental implant if you are in good general health, have adequate amounts of bone in your jaw to support the implant, and have healthy tissues that are free of periodontal disease
What is treatment like?
Your periodontist and restorative dentist will work together to determine where and how your implant should be placed, and what type of prosthesis will be needed. The implant is placed into your jaw bone by your periodontist and is then allowed to heal for two to six months. This allows the bone to grow intimately around the implant. This process is called "osseointegration". Once the implant is osseointegrated, it will be able to support the biting forces of the prosthetic tooth or teeth that are transferred to the implant. The next step is the placement of a small metal post, called an "abutment". The abutment provides the foundation on which your new tooth will be placed. Your restorative dentist then takes an impression of the abutment so the tooth can be fabricated. The tooth will then be attached to the abutment. Some implant systems require a second surgical step. These implants are initially placed below the gum tissue. To attach the abutment, the implant must first be uncovered from the overlaying tissue. Your gums will be allowed to heal for a couple of weeks before the impression is taken.
How do I take care of my implant?
Dental implants require the same type of care as your natural teeth. They require good home oral hygiene and regular visits to your dentist and/or periodontist. If proper hygiene procedures are not preformed, the implants can develop gum disease just like natural teeth.
Before & After Photos